Bathymetry
In general terms Bathymetry is defined as for measurement of ocean depth through depth sounding. Bathymetric Lidar is a technique to capture geospatial data of the coastline and (shallow) waters. It is a method potentially facilitating efficient and fast creation of hydrographic data.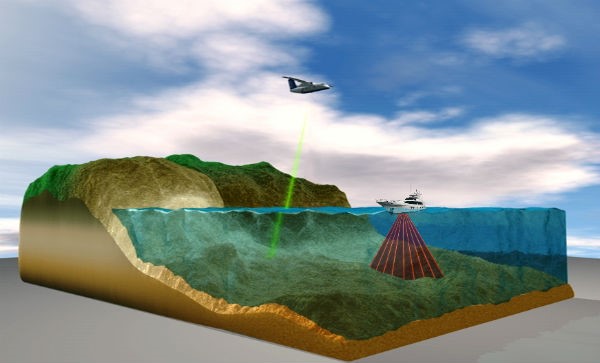 It offers a cost effective solution to wide area surveys which are impossible, difficult or expensive to access or complete using conventional acoustic systems.
With sea level rise and increases in the severity of extreme natural events, there has been a renewed push to further our understanding of the coastal zone. Fundamental to understanding risk in areas of high susceptibility is capturing the near-shore land and sea surface.
Bathymetric Lidar is the most effective and cost-efficient technology to capture both the land and seafloor simultaneously to provide a continuous, detailed 3D elevation model along the coastline. Its ability to successfully capture elevation on both sides of the coastline.
InfoTech provides highly accurate Bathymetry post processing products and having dedicated LiDAR classification staffs.
Bathymetry in LiDAR classification are as given below:
Ground
Underwater Ground
Underwater Vegetation
Water Level