UAV Image Processing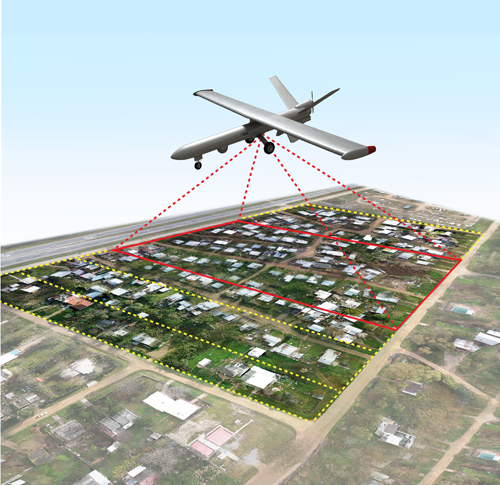 The spatial resolution of the input imagery is directly proportional to the accuracy of aerial data. More the resolution better the quality of aerial data. The high resolution images from UAV are as good as traditional aerial mapping solutions. The latest in computing practices resulted in vigorous and fully
automatic production practices and coupled with high end computing machines. They can deal with all types of customer techniques those are often challenging in terms of positional inaccuracies and imagery orientation information.

InfoTech's technical expertise can deal with all such images and its related challenges. InfoTech needs post processed UAV images
along with the mandatory inputs such as GCPs (along with screenshots) and GPS IMUs. And then process it as per customer requirement only. Now with the availability of technical staff in Photogrammetry the demands of customers are met. Starting from Aerial Triangulation to Orthophoto Generation.

Applications of UAV Imagery
One of the major application for which UAV images used is for agriculture. UAV images are ideal for small sized farms. Plant counts such as corn counting will give an idea of yield from those plants. Plant health monitoring, differentiating species of agricultural farms/plants and plantation
estimation are the major task performed for agriculture. Growth stages of the farms can also be monitored using ortho images acquired through UAV process.
UAV image processing services is also helpful for the site selection for solar farms.

In case of forestry, UAV images are very helpful in species identification. With the use and proper interpretation of these images one can identify forest species and enabled the client to map forest land parcels. It is a tool to monitor de-forestation as well as afforestation. Golf courses are another field
where UAV data sets are highly useful. Golf course features can be mapped with their actual heights through this process.

Mining industry is the most benefitted in the usage of UAV technological advancement. As most of the mines are spread over small areas, UAV data acquiring and processing is very cost effective. Along with other data processing, InfoTech has got the expertise in generating contours and mining related features to very minute levels of detail.

Infotech Enterprises is renowned among the best Photogrammetric mapping services company serving clients worldwide provide services include aerial triangulation, 3d Modeling and Meshing, Orthophoto generation, Golf course Mapping and DEM/DTM generation and editing.